What's being read for the next week or two.....
Ok so I've set down my books i've been reading from the well known authors, to help my fellow indie authors in reading and reviewing their books. I've got a few going on right now, so Ive definitely got my hands full but, it definitely feels good to be back reviewing books.
Blood Vengeance by L.E Wilson.
This is her second book in her Deathless Nights Series.
SYNOPSIS
Luukas Kreek is a Master Vampire - one of the most powerful of his time. He has survived for over 600 hundred years, through wars, uprisings, and rivals who've attempted to take what is his. The first of his kind that dared to cross an ocean, he even started his own colony in a brand new world, increasing his strength with every new vampire he's created. Nothing can defeat him.
Until now...
Keira Moss has been secretly honing her magic her entire life in order to protect herself and her family from the corruption in their coven. Never would she have thought she could be forced to use her powers for anything other than the good of her family, until the one person she cares about most in the world is attacked and threatened.
One bound by chains and one bound by love, Luukas and Keira are forced into a nightmare, with no end in sight.
Survival is their choice. Love is their destiny.
(I'm already 77% of the way through this book)
Once finished with Blood Vengeance then I'll be moving onto a 3 book review for the lovely Author A.N. Meade for her Marked series.
Marked
The Marked series follows a woman named Kate who transitions into a vampire, and discovers that there is so much more to her than she ever imagined. She changes her name to Aimee, which is how she is referred to throughout the rest of the series. It is a name that she re adopts, which belonged to her in a past life as a Celtic priestess. More and more is revealed as the books progress both about Aimee and about her place in the middle of all the paranormal political issues that are going on at the time. She is hunted by a demon named Damian, who claims her as his own. Book one focuses on Marc and how his love for Aimee brings her out of a deep despair. He helps her to find happiness again, and the second book is about her finding purpose. She is very driven in Book 2 to uncover more of the secrets of her past in an attempt to garner enough power to protect herself and her circle of friends, which includes Liam (a Guardian), Enric and Natasha (Human friends), Hex (a Warlock advisor), and Nero (the werewolf Alpha). The wolves aren't introduced until book 2 where we start to see how they fit into the conflict that is bringing the supernatural community to the brink of war.
Beauty and the Darkness
Beauty and the Darkness is the second book in the Marked Series. Aimee was left feeling vulnerable after Damian's attack on her at the end of book one. In this book Aimee throws herself full force into learning all she can of her abilities in an attempt to better protect herself from Damian's growing threat and protect her circle of friends. Damian's interest in her, however is much more than a personal one. He is not about to let her go riding off into the sunset with Marc. She is a vampire now, but there is so much more to the story, as she soon discovers.
Several new characters are introduced in this book including Aimee's friend and teacher, Hex, who is a warlock, and Nero, the werewolf Alpha.
Rise of the Blood Queen
Rise of the Blood Queen is the third book in the Marked Series. In this book, Aimee struggles to face the consequences of the tough choices she made in book 2. She has to push her personal boundaries and either grow or die. There's an element of survival, but also the new task of building friendships and relationships from the ashes. We get to see more of Damian, Marc, Liam and Hex, as well as some new characters like Duncan. Duncan is an ancient warlock who lives in solitude in the forest. He has knowledge of the prophecies as well as the magic that Aimee is learning to wield.
Then after those are done, then muy final review for June will be Escape From Witchwood Hollow by Jordan Elizabeth Mierek.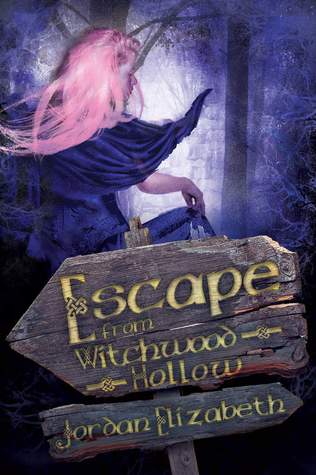 Escape from Witchwood Hollow
Everyone in Arnn - a small farming town with more legends than residents - knows the story of Witchwood Hollow: if you venture into the whispering forest, the witch will trap your soul among the shadowed trees.
After losing her parents in a horrific terrorist attack on the Twin Towers, fifteen-year-old Honoria and her older brother escape New York City to Arnn. In the lure of that perpetual darkness, Honoria finds hope, when she should be afraid.
Perhaps the witch can reunite her with her lost parents. Awakening the witch, however, brings more than salvation from mourning, for Honoria discovers a past of missing children and broken promises.
To save the citizens of Arnn from becoming the witch's next victims, she must find the truth behind the woman's madness.
How deep into Witchwood Hollow does Honoria dare venture?
I am accepting Review requests for July, as long as they meet the critieria posted in my book review policy section. I hope you enjoy the reviews when they come out for these, and hey if yur interested in taking a look at these books, checked em out plus others reviews at
Goodreads.com